When:
October 18, 2019 – October 20, 2019
all-day
2019-10-18T00:00:00-03:00
2019-10-21T00:00:00-03:00
Where:
Charlottetown Bible Chapel
35 Lincolnwood Drive
Charlottetown
PEI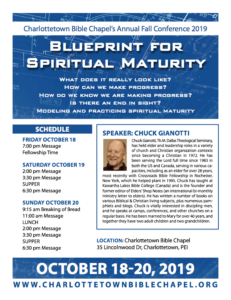 CLICK HERE to download to view the Poster in PDF
Charlottetown Bible Chapel's
Annual Fall Conference 2019.
October 18-20, 2019
SUBJECT: Blueprint for Spiritual Maturity:
What does it really look like?
How can we make progress?
How do we know we are making progress?
Is there an end in sight?
Modeling and practicing spiritual maturity.
SPEAKER: Chuck Gianotti
ABOUT THE SPEAKER:
Chuck Gianotti, Th.M. Dallas Theological Seminary, has held elder and leadership roles in a variety of church and Christian organization contexts since becoming a Christian in 1972. He has been serving the Lord full time since 1983 in both the US and Canada, serving in various capacities, including as an elder for over 28 years, most recently with Crossroads Bible Fellowship in Rochester, New York, which he helped plant in 1995. Chuck has taught at Kawartha Lakes Bible College (Canada) and is the founder and former editor of Elders' Shop Notes (an international bi-monthly ministry letter to elders). His books include A Cosmic Drama: Men, Women & the Church, The Formation of the New Testament, the Day by Day expositional-devotional series, the Elders' ShopNotes book series (five volumes), The New Testament and the Mishnah, plus numerous pamphlets and blogs. Chuck is vitally interested in discipling men, and he speaks at camps, conferences, and other churches on a regular basis. He has been married to Mary for over 40 years, and together they have two adult children and two grandchildren.
Schedule:
FRIDAY �October 18
7:00 pm Message
Fellowship Time
SATURDAY �October 19
2:00 pm Message
3:30 pm Message
SUPPER
6:30 pm Message
SUNDAY �October 20
9:15 am Breaking
of Bread
11:00 am Message
LUNCH
2:00 pm Message
3:30 pm Message
SUPPER
6:30 pm Message